Gooseberry Jam Recipe - Summer Nostalgia
The gooseberry jam recipe is a description of an unusual summer harvest for the winter, which is a huge success thanks to the original taste and appearance. The berries resemble grapes. They may have a color from green to dark purple, which gives an even more unusual look to fragrant jam. We offer several options for its preparation at home.
Recipe for royal jams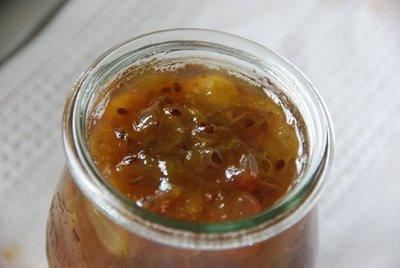 Gooseberry produces amazingly beautiful jam, it is poured in the sun and beckons to try it. Kilogram of unripe berries clean of tails and sepals. Snip each and remove the seeds. In a convenient container lay layers of gooseberries and cherry leaves (washed). Fill the mixture with cold water and leave for 6 hours, then drain the liquid and put the ingredients in a colander. Put a saucepan with two glasses of water and 1.5 kilograms of sugar on the fire, boil the syrup. Without removing from the heat, put the berries and after a couple of minutes, turn off the fire.Leave to cool for 4 hours. Repeat the boiling two more times, then pour the cooled jam over the jars (pre-sterilized) and close with lids (roll up or spin).
Gooseberry Jam Recipe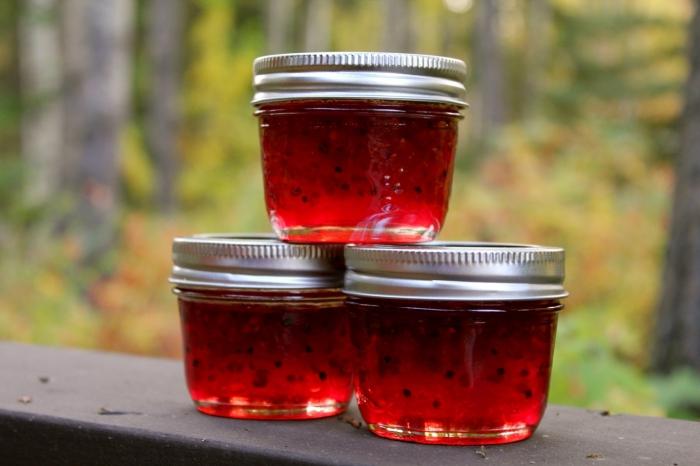 Three glasses of basic berries and a glass of raspberry (you can use strawberries or cloudberries) to wash and dry. Twist the ingredients through a meat grinder and pour into a convenient container. Add 4 cups of sugar and stir, leave the mixture for 4 hours in the room, stirring occasionally. Introduce vanilla and boil, remove the resulting foam. Keep on fire for about five minutes, then pour into sterilized containers and screw or close with plastic caps. You can store in the refrigerator or basement.
Pickled Gooseberry Recipe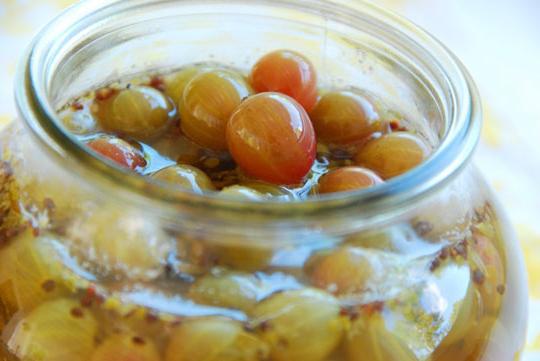 Carefully wash the berries and remove the tails, pin each needle. Fold everything into half-liter jars, add a few carnations, allspice of peppers and a few leaves of black currant. In each container, pour the boiling water up to the top and after five minutes pour it into the saucepan. We put greens of cherry in it and wait for boiling. We take out the leaves and add salt and sugar, as well as a glass of water.After the bubbles appear on the surface, pour the liquid into jars and after five minutes we pour it out, again boil it and add vinegar essence. Again, pour in containers and roll them. We turn it over and put it on the covers, we necessarily wrap it up and cool it naturally.
Recipe for gooseberry jam with oranges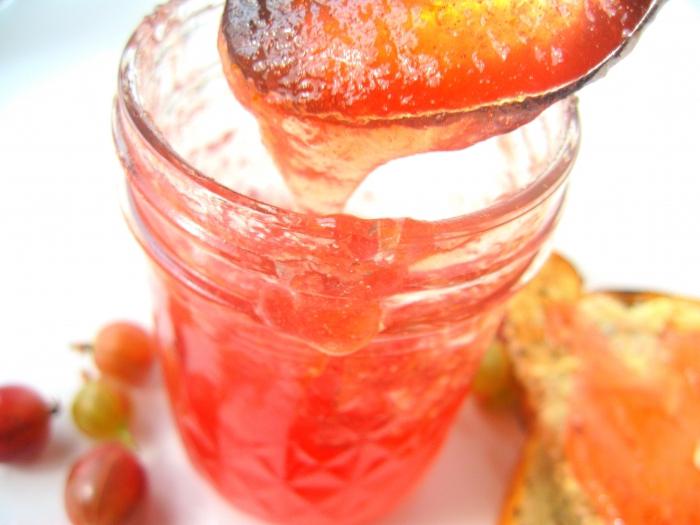 Grind berries and juicy fruits with a blender (citruses need to be cleaned and seeds are removed from them). Mix the mixture with a kilogram of sugar and wait for it to dissolve. Sterilize the jars and arrange jam in them. Roll up the covers. Some people prefer to put cinnamon or cloves, someone loves badies.
Conclusion
The recipe for gooseberry jam should be in every cookbook. This is a very tasty treat that harmonizes perfectly with pancakes, pancakes or other sweet pastries. Any housewife can adapt it to the tastes of his family, adding various ingredients and fragrant spices.
Related news
Gooseberry Jam Recipe - Summer Nostalgia image, picture, imagery