How to make dishes for dolls quickly and easily
Cookware - a mandatory attribute for any kitchen. And the doll kitchen is no exception. Miniature tea sets, plates, large dishes, forks and spoons are all necessary for a full-fledged game of dolls. But it is not necessary to spend big money and look for the necessary dishes on the product shelves. Try to do the dishes yourself, and better - with the children. This exciting activity will develop their creative skills, spatial thinking, accuracy and manual dexterity.
Materials needed to create utensils at home
So, how to make dishes for a doll using standard materials? Very simple. Be patient and put in some effort. Prepare in advance the following tools and materials:
colored cardboard;
white paper;
compass;
glue;
scissors;
ruler.
Making paper plates together
And now let's take a closer look at how to make dishes for dolls with your own hands.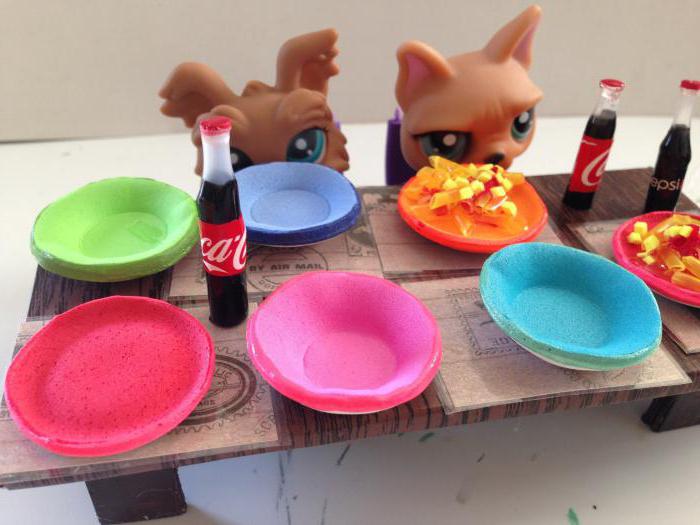 Take a colored cardboard and on the reverse side with a compass draw a circle with a diameter of 2 cm.
Inside it, draw another one, the diameter of which will be 1 cm 3 mm.
Cut a large circle. Next, cut the ring and cut the inner circle.
Now let's do the ring. Cut a small piece from it, and glue, now defective, a ring to white paper.
Cut out a circle with a glued ring, leaving a couple of millimeters on the edges. Make an incision between the edges of the ring, cut a small circle in the middle to make a small hole. Make cuts from this hole to the cardboard.
Now glue the ends together so that the edges of the cardboard are joined.
Next, cut 2 white circles with a diameter of 1 cm 1 mm. Glue one circle to the inside of the plate, and the second - on the bottom.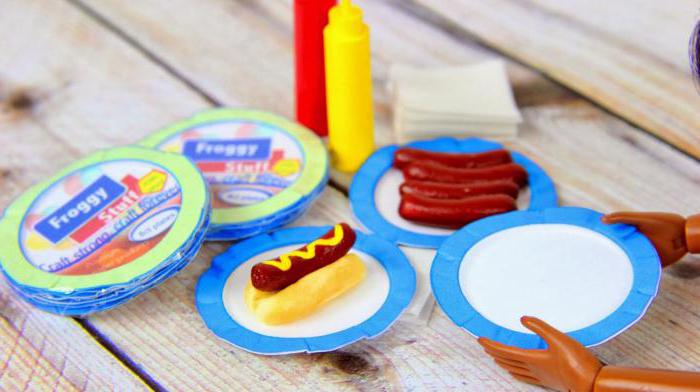 The plate is ready. Do some more for the full set. Here's how to make dishes for a doll very quickly and efficiently. Also, using this principle, you can experiment with the size of the plates and their depth.
What you need to make cups for dolls
And now let's make cups for dolls. For this you will need:
Colored cardboard.
White paper.
Scissors.
Glue stick.
Ruler.
How to make cups for dolls
You can get to work. To understand how to make dishes for a doll, use the following guidelines:
Cut a strip of dyne 12 cm and a width of 0.5 cm out of cardboard.
On a white sheet of paper, measure a strip of 2 cm and one more, 1 cm wide and 4.5 cm long.
Cut and fold the paper along the marked line. The small strip remains on the other side.
Apply 2 cm long cardboard strips to the outer part. There should be 6 such strips.
Bend all the gaps between the stripes.
Bend a narrow strip of paper and make cuts along the outlined lines, and cut the last piece, as it will not be needed.
Roll up and glue. Make a bottom, sticking together the opposite pieces of paper.
It remains to make a pen. Cut a thin strip of paper and stick to the cup.
Now you know how to make paper for dolls out of paper. As you can see, there is nothing difficult here, but you must be able to work with small details.
How to make dishes for dolls with their own hands out of clay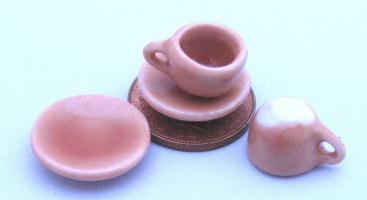 To the dishes looked like real, you can make it using clay. No, you do not need to be engaged in pottery, but you will have to visit a shop where everything is sold for needlework. To work get:
polymer clay of a color you like;
caps of different sizes;
acrylic paint white;
tassel;
gloss varnish.
Making dishes from clay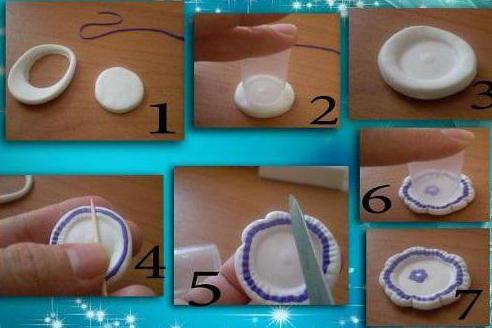 Let's look at how to make clay for dolls made of clay:
Properly mash the clay and roll out the layer with a thickness of one and a half or two mm. Make it look like you're rolling dough. The thickness should be the same.
Take the largest cover (without thread) and make a few prints, depending on how many plates you want to get.
In the middle of each tortilla it is necessary to make another impression. This will be the size of the plate or saucer without edges.
Using a toothpick, make a dent at the edges, and make small craters with a bead.
Collect the remains of clay and roll them into several balls: one large, two medium-sized and one tiny.
One ball slightly squeeze, lock the largest ball on it. On top, add another circle, slightly flattening it, forming the lid of the kettle.
And finally stick the smallest ball that will play the role of a pen.
It remains to make a spout and pen. Roll the sausage, bend it and stick it to the base. Make a dent on the end of the spout.
In the same way make a pen, only thinner and shorter.
White or any other paint draw peas on the service set (or another drawing).
Take the old pen with a rather wide cap. Lubricate it with cream and cling clay. Carefully peel off. Roll up a thin sausage and form a beautiful handle for the resulting cup. Make some more cups.
Color them.
Preheat the oven and bake the set as instructed in the clay instructions. Kettle reach last, since it is quite large, and it will take more time.
Remove the products, dry them and varnish.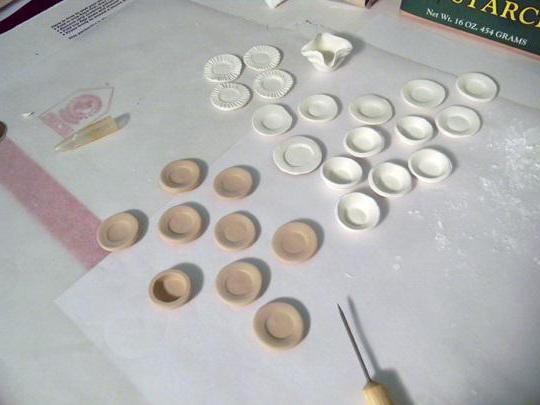 From such polymer clay you can make spoons and forks. We have given several ways to do the dishes for the doll. Choose which one is more interesting to you, and feel free to get to work.
Related news
How to make dishes for dolls quickly and easily image, picture, imagery