Industrial filters for water treatment: types, differences, prices
The water used in industry often must be no less pure than drinking water. This is especially true of the production of cosmetics, drugs, food, etc. In any water always contains all sorts of unwanted impurities: salts, iron, gases, dirt, and the like. You can get rid of them by installing industrial filters. For water purification in factories and factories used different types of similar structures.
Scope of industrial filters
In addition to the pharmaceutical and food industries, as well as enterprises for the production of cosmetics, equipment of this type can be used:
in heat and power;
in the manufacture of paper;
in the food industry;
at the glass enterprises;
in agriculture, etc.
Filters can be used for cleaning the water supplied to the plant, as well as for removing contaminants from waste water that is discharged into reservoirs.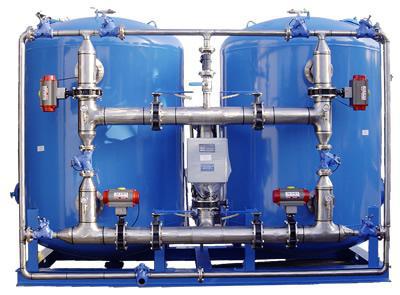 Types of equipment
In the production process of enterprises can be used both technical and drinking water. For preliminary processing of the latter, very simple equipment is usually used. These are the so-called mechanical water purification filters (industrial). They are designed to remove all sorts of solid, rather large particles. This can be, for example, sludge, dirt, scale, etc. Water is filtered in such equipment either through metal grids with cells of different sizes, or through the use of bulk materials: sand, crushed expanded clay, aluminum silicate in granules, etc. dd
Also, getting rid of solid impurities can be done using equipment such as industrial fine water filters. They are designed to remove very small organic compounds and elements containing chlorine. Cleaning in such equipment occurs through the use of carbon fillers. It can be used to improve the quality of not only technical, but also drinking water.
There are also industrial fine water filters designed to:
for deferrization;
for softening.
The principle of their work is based on the impact on water of various kinds of special reagents. Unlike equipment such as industrial water filters for rough cleaning, these devices usually have not too large dimensions, but are considered more expensive to operate. All that needs to be done to effectively work with mesh models is to remove accumulated sediment from time to time. In the fine filters, after each cycle, the reagent should be replenished. In addition, when installing such equipment, it is necessary to make quite complex calculations.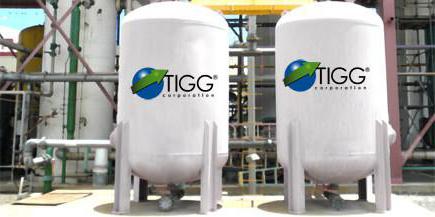 Features of the design of fine filters
Simple industrial mesh filters for water purification in enterprises are used quite rarely. Most often, this type of equipment is a flask, a pool or a large reservoir that has two openings: an inlet and an outlet. Inside this tank is a reagent that has the desired effect on water. In addition to chemicals and coal, these can be live aerobic or anaerobic bacteria. In addition to the reagent tank, the filter also includes elements such as a control unit, central and lower distributors, and a gravel substrate.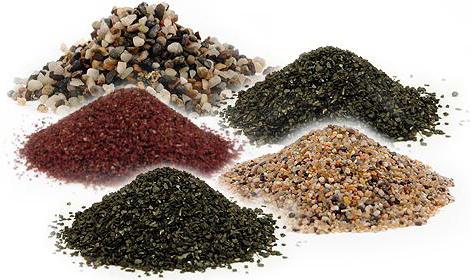 Equipment for deferrization
Industrial filters for water purification of this type are used in production most often. The fact is that the iron dissolved in water clogs the equipment: pumps, pipes, etc. As a result, the latter quickly fails. To prevent this from happening, iron from the water, of course, must be effectively removed. As a reagent in modern filters designed for this purpose, most often used a special environment Greensand. It is a fine-grained sand coated with manganese dioxide. The latter acts as an oxidizing agent for iron. It can be applied on sand under the influence of high temperatures. Sometimes a glaucon base is used in such an environment. Manganese dioxide is applied to it by ionization. Remaining after washing in the filter sediment is discharged into the sewer. Also equipment of this type can be used to remove elements such as hydrogen sulfide and manganese from water.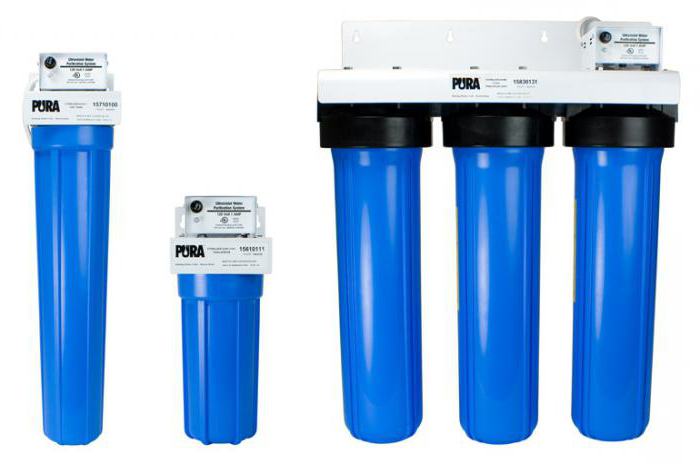 Industrial filters for cleaning water from iron can work on a different principle. In this case, the reagent is not used at all. Oxidation of iron and some other impurities inside such equipment occurs under the action of oxygen. The latter is injected into the water through a powerful compressor.To accelerate this process, various catalysts are used. It may be quartz sand, anthracite, etc.
Softening models
Such plants have approximately the same principle of operation as industrial filters for cleaning water from iron. The only difference is that instead of a medium with manganese dioxide or oxygen in this case, a special ion exchange resin (sulfonated copolymer) is used. The degree of water hardness, as is known, is determined primarily by the percentage of magnesium and calcium ions in it. This is what removes the filter. In this case, the copolymer replaces them with sodium ions. Restore the exchange capacity after each cleaning cycle with ordinary table salt. Industrial filters of this type are used in public utilities for softening drinking water, in boiler installations, etc.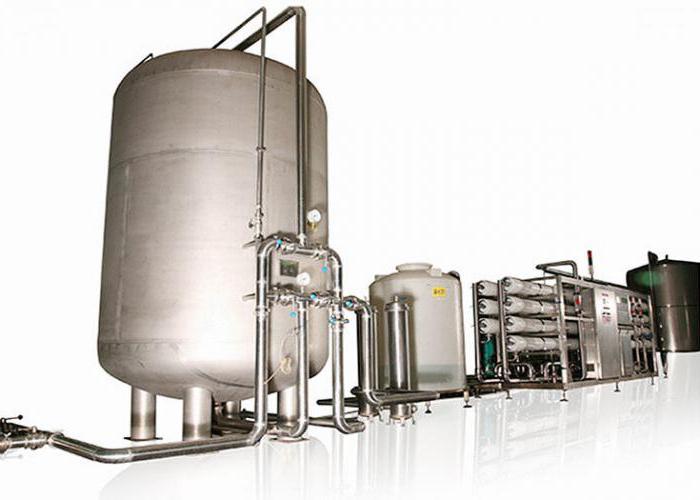 Disinfecting equipment
This type of filter is most often used in the food industry. Previously, ordinary chlorine was used to remove pathogens from water. However, this substance itself is not harmless. Therefore, recently in the food industry for this purpose special filters are used, the disinfection of water in which occurs as a result of exposure to UV rays.It is very efficient and completely safe equipment.
Industrial filters for water treatment: price
The cost of this type of equipment depends primarily on its type, type of environment used and performance. The price of mechanical mesh options, for example, is about 150-200 thousand rubles. The cost of iron removal filters ranges from 30-70 thousand rubles. The price for coal models is about the same - 40-80 thousand. Softeners cost businesses a little more expensive - about 50-100 thousand rubles.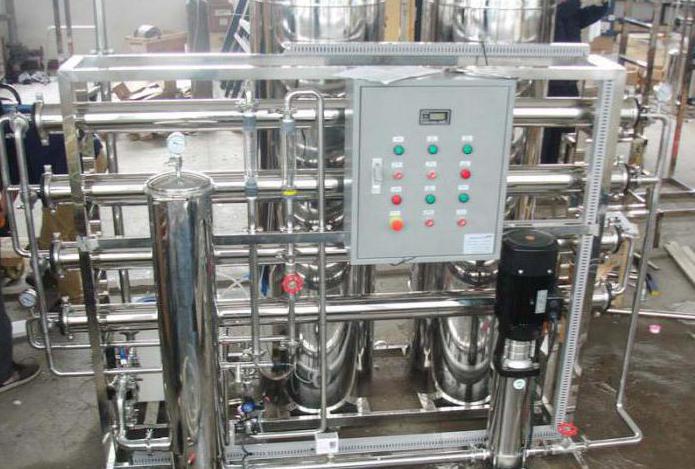 Thus, industrial filters for water treatment, the price of which can be quite high, allow, however, to extend the operating time of the equipment, to save the environment, and in some cases to get the best quality products. Only one conclusion can be drawn from all this - the installation of such installations in production shops is, of course, necessary and expedient.
Related news
Industrial filters for water treatment: types, differences, prices image, picture, imagery