The medicine "Lindinet" 30 - an effective drug that prevents pregnancy
The drug "Lindinet" is a combined contraceptive intended for oral administration.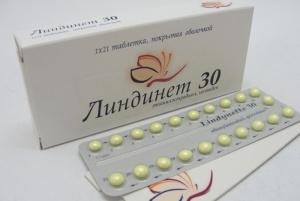 Pharmacological properties
The drug is a contraceptive gestagen-estagenic drug that blocks the action of gonadotropins involved in regulating the functioning of the ovaries, corpus luteum, ovulation. The product is represented by two varieties: Lindinet preparations - 30 and 20. These forms contain 75 μg of the active substance, gestodene, and 30 and 20 μg, respectively, of ethinyl estradiol. The use of a contraceptive inhibits ovulation, changes the characteristics of the cervical mucus, prevents sperm from entering the uterus, affects the endometrium. This reduces the chance of implantation of a fertilized egg into the uterus.In addition to the contraceptive functions, the drug also has many other positive properties. Thus, the use of Lindinet (30, 20) helps to normalize the menstrual cycle, reduce the intensity and frequency of painful symptoms during menstruation, reduce blood loss, and also counteract the development of certain gynecological pathologies. From patient reviews, it can be concluded that the pills reduce the incidence of ectopic pregnancies and ovarian functional cysts.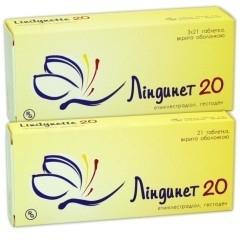 In addition, the tool significantly reduces the risk of fibroadenoma and fibrous cysts, endometrial cancer, inflammation in the pelvic organs.
Indications for use
The medicine "Lindinet" 30 and 20 is prescribed primarily to prevent unplanned pregnancy. In addition, the drug is used for the prevention of gynecological pathologies.
Contraindications
It is forbidden to use Lindinet 30 and 20 in case of hypersensitivity, unclear etiology of vaginal bleeding, hormone-dependent malignant tumors of the reproductive system and mammary glands, cholelithiasis, liver tumors caused by taking glucocorticosteroids, jaundice.You can not take tablets "Lindinet" with cholestatic jaundice, hepatitis, severe liver disease, pancreatitis, dyslipidemia, the risk of arterial or venous thrombosis.
You should not take the drug for diabetes, surgery with prolonged immobility, migraine, smoking women. The medication "Lindinet 20" and pregnancy are not compatible, and during lactation they also do not prescribe a drug. Caution should be taken pills for severe depression, liver ailments, obesity, angioedema, severe injuries, hypertension, epilepsy.
Instructions for use
Tablets "Lindinet" 20 and 30 must be taken orally one unit per day. It is advisable to adhere to one time while consuming the drug. Treatment continues for three weeks, then take a break for a week, after which the course is repeated. Use of medication is required from the first day of the beginning of the month. When you skip the medication, an unaccepted pill needs to be drunk as soon as possible.
Related news
Lindinet 30 is an effective pregnancy prevention drug image, picture, imagery