Salad with ham and corn: delicious recipes
Salad with corn and ham can cook any self-respecting hostess. It does not require any unusual ingredients, often its components are easy to find in the refrigerator. The dish turns out to be very satisfying, and ham combined with sweet corn gives it a surprisingly rich taste. We have selected for you several popular recipes for this snack.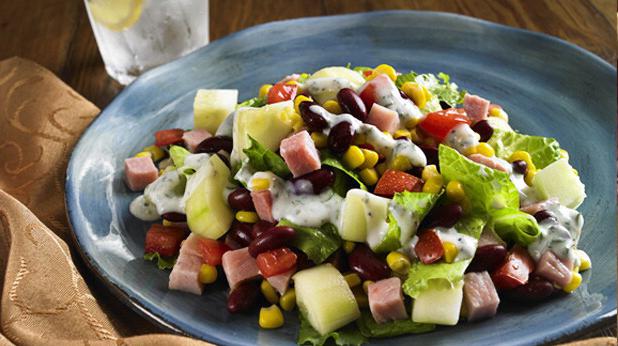 Salad with ham and corn
Prepare it is not difficult. Such a salad can even be put on a festive table, guests will eat it for both cheeks!
The main ingredients we take are:
300 grams of ham;
two chicken eggs;
200 grams of cabbage;
four large spoons of corn;
one cucumber;
three large spoons of peas;
mayonnaise.
Stages of cooking:
Cook eggs, clean, cut into cubes.
Chop cabbage finely.
Ham and cucumber cut into strips.
We mix products in a plate, add peas, corn, mayonnaise, salt.
Simple and hearty salad with ham and corn is ready! Before serving, decorate it with greens.
Mushroom Salad
The composition of this dish also includes cheese, which adds spice to the taste.
Products required for cooking salad:
300 grams of ham;
one can of corn;
200 grams of cheese;
one can of mushrooms;
two cloves of garlic;
six large spoons of mayonnaise.
The sequence of actions:
Ham cut into cubes.
Three cheese on a fine grater.
Cut the champignons.
We press or chop garlic.
Mix all the ingredients, salt, pepper, mayonnaise.
That salad turned out so delicious! Ham, corn, cheese - an unusual combination, which turns out very advantageous. We decorate salad with greens. Now you can put on the table.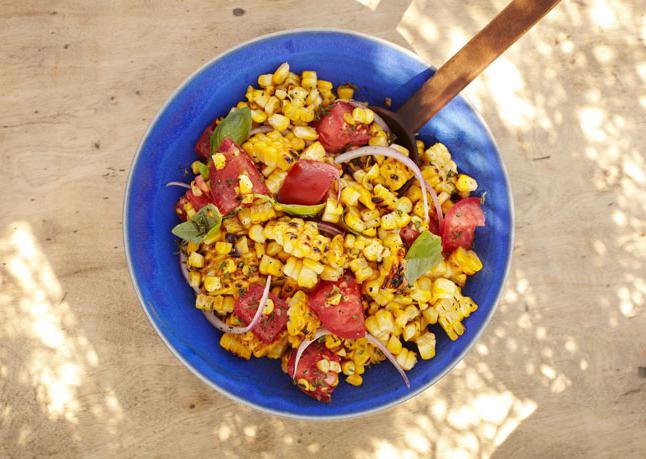 Bean Salad
Dishes, which include beans, very tasty and healthy. This recipe is incredibly simple to prepare and will not take you much time. What we get from the products?
one jar of beans;
200 grams of ham;
a jar of corn;
olive oil.
How to make a salad with corn and ham?
Dice meat, put on a plate.
Add corn, beans, refuel with oil.
Done! Everything took us no more than five minutes. This salad can be quite a satisfying lunch.
Salad with shrimps, tomato and corn
Such dish, undoubtedly, will decorate any table. Shrimps in combination with corn give the salad an unexpected taste.
Such products we need to take:
150 grams of boiled peeled shrimp;
a can of corn;
two tomatoes;
lettuce leaves;
olive oil.
Cooking process:
Cut ham into strips.
Rip up the salad.
Wash tomatoes, cut into cubes.
Mix all the ingredients, pour the oil, add salt.
Easy and exotic dish is ready!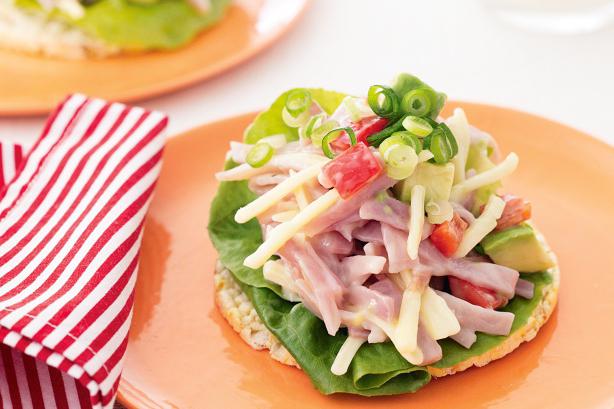 Pineapple Salad
Bright, fun dish we get thanks to the yellow tropical fruit. Ham and eggs, in turn, will make the salad very nourishing.
Composition:
200 grams of canned pineapple;
jar of sweet corn;
two chicken eggs;
200 grams of ham;
mayonnaise.
Cooking method:
Pineapples cut into half rings, ham - strips.
Cook eggs, rub on a grater.
We mix all products, we fill with mayonnaise, we salt.
That's all! Exotic salad with ham and corn with the addition of pineapple is ready! You can serve it on the table.
Salad "Delight"
Do you want to cook a hearty and delicious salad that will appeal to your household and guests? We suggest using this recipe.
Take the following ingredients:
two cucumbers;
300 grams of ham;
five boiled potatoes;
a can of corn;
two boiled chicken eggs;
100 grams of crab sticks;
bunch of green onions;
mayonnaise.
How to prepare?
Ham finely chopped.
Wash cucumbers, peel and chop straws.
Crab sticks rubbed on a fine grater.
Boiled eggs and potatoes cut into cubes.
Chop onions finely.
Combine all ingredients, add mayonnaise, salt and mix well.
So we prepared our salad. Corn, ham, cucumber and crab sticks are perfectly combined with each other. Salad knowingly got its name - the guests will devour your creation with delight.
Salad with crackers
This quick and easy dish will definitely be included in the list of your favorites.
Here is what we need from the products:
a pack of crackers;
jar of sweet corn;
150 grams of ham;
jar of red beans;
clove of garlic.
Preparing a salad is very simple:
Ham cut into cubes.
Open the corn and beans, drain the water, spread on a plate.
Add ham, garlic.
Ready salad dressing with mayonnaise and sprinkle with croutons.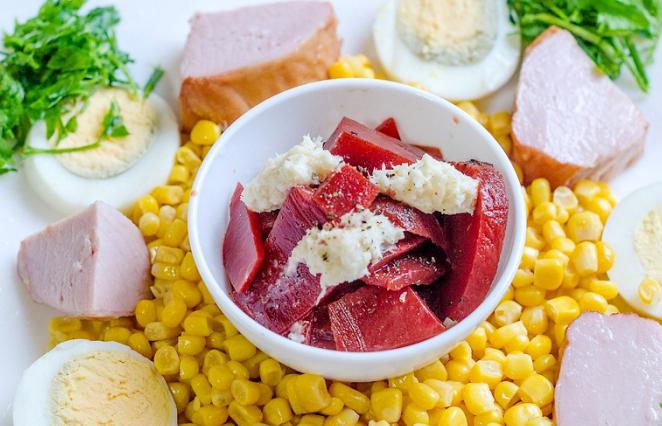 A few words in conclusion
Now you know how to make a salad with ham and corn.As you can see, he will not take much time from you, but he will be pleased with the result. This dish is perfect for both daily and holiday table. Thanks to the ham salad is nourishing, so you can cook it for lunch or dinner.
Do not be afraid to experiment, add a variety of ingredients, playing with the taste of salad. He will certainly be one of the most beloved in your family. Bon Appetit!
Related news
Salad with ham and corn: delicious recipes image, picture, imagery