Stuffed squids - taste and benefit in one dish
Many people like stuffed squids. Their recipes have already filled all the cookbooks, and new ones continue to appear. These mollusks with ten legs have long ceased to be a delicacy in our latitudes. They are used as an ingredient for salads, fried, stewed and stuffed. There is nothing difficult in stuffing squid with different stuffing. His carcass is made in such a way as if it asks for it. Stuffings can be used both raw and already cooked. Full readiness of the dish is ensured by roasting in a frying pan or baking in the oven.
The use of squid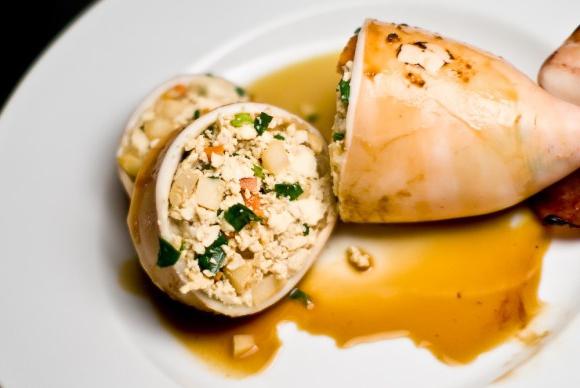 Stuffed squid can be safely attributed to the healthy and environmentally friendly. They grow in the depths of the sea, in the wild. Catching squid is much easier and cheaper than growing on purpose. They are divided into Pacific and Atlantic. Immediately after the catch, seafood is processed, most often directly on board.They can not be thawed more than once, otherwise the meat will be spoiled. Stuffed squid can be such a useful dish that seafood itself is often called "sea ginseng." Its digestibility is much higher than that of meat. It should be noted that in those countries where squid have long been a traditional product, gastric diseases are less common. These sea monsters contain much more useful than fish or milk, and in terms of the level of valuable protein this seafood can be undoubtedly called a leader.
How to cook squid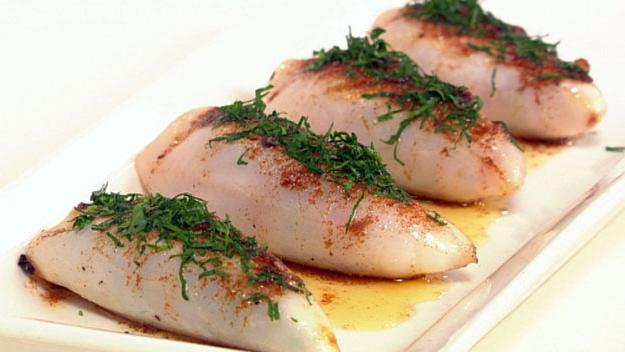 To cook stuffed squid perfectly, you need to take care of the correct choice of raw materials. Use only frozen or canned carcasses. Packaging of canned food should always have a shelf life and composition of the product. For frozen squid will take more effort. Only a single defrost is possible for them. It is not difficult to cook stuffed squid. Shrimp can be shaded. In addition, this filling is soft. Separately, you can prepare a sauce with wine, and the dish itself is subsequently stew in a wine gravy. Alcohol is quickly evaporated, and in the end there will be only a delicate taste of seafood.
Stuffed Squid
Squid with minced meat will be an equally interesting option. For this dish you can use beef or veal. It will take about 150 grams of meat per 1 kilogram of frozen peeled squids, one medium onion and a clove of garlic, bay leaves, a couple of fresh tomatoes, salt, pepper, breading flour.
Preparation course
Cleaned squids must be washed and dried. Stuffing is mixed with garlic, chopped parsley. Salt and pepper are added. The filling is filled with a small amount of sweet liquor or dry wine. Some cooks stuffed squids complement the bacon, which is scrolled through a meat grinder. Seafood must be stuffed with stuffing, stabbed with toothpicks and put on a plate. Separately should be cut tentacles. Carcasses are fried until golden brown, they must first be rolled in flour. Onions are passaged separately; grated tomatoes and chopped tentacles are added to it. All this is stewed for 10 minutes over low heat. The result is a sauce, which poured carcass, there is added a little white wine and a pinch of salt.Within 20 minutes, squids must be stewed with the lid closed, this will help make the taste even softer.
Related news
Stuffed squids - taste and benefit in one dish image, picture, imagery